I've been so busy, I've forgotten to blog in a while. It hasn't been all work however as I just got back from a month in sunny Florida. The weather was great! The day after we got back to Seattle it snowed. I miss Florida already.
It wasn't all fun and games in Florida, though it was mostly fun and games. While I was there I released another new song. This one is called A Want or a Need. I wrote the lyrics and my producer and good friend Erich Benedict wrote the music. I got the idea for the song based on the interaction with my kids; which is probably the same interaction everyone has with their kids. That is they say daddy I need this… I need it. Of course they don't really need it they just want it. So I would start to say something like "I know you want it but you don't really need it, there not really the same. Then I thought that might make for a good song.
Since it was going to be a song I thought I'd change it up and make it about a couple, not about parents and kids. The main line was easy. Is it a want or a need… there not really the same, one has to do with the heart the other the brain; and it just flowed from there. I then took the words to Erich and we talked about the sound we wanted and he came up with a great tune. We released it on Amazon and it hit number one on the hot new releases chart for easy listening within a couple of days. That was very cool.
Here is the link to it on Amazon: http://www.amazon.com/A-Want-or-a-Need/dp/B00I4BB21S/ref=sr_1_2?ie=UTF8&qid=1393886577&sr=8-2&keywords=george+a+santino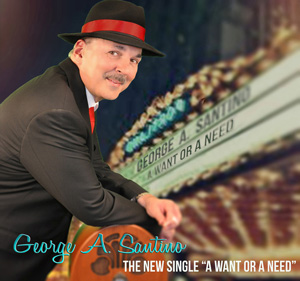 The cover was done by Anessa Benedict who always does such a great job. She's also designing the cover for my next CD which will be out soon.
Speaking of the next CD this one will have six originals as well as six cover songs. We're almost done with it. We have another new original to record. This was is called Let's Try Again… Again. And once again I wrote the lyrics and Erich Benedict wrote the music. In a couple of weeks I'll record that one and three more cover songs and then Erich will do his production magic and CD 3 will be released. I'll let you know on my website when and where you can get it.
I also have continued to work on my book Get Back Up with the help of published author Mary Jane Beaufrand. Who, by the way, is in the process of getting her forth book published. You can read more about her here: http://www.goodreads.com/author/show/733242.Mary_Jane_Beaufrand
As if that weren't enough Erich and I continue to perform live. In fact we have a show at Pizzeria Guido and Wine Bar on March 13th at 7. http://pizzeriaguido.com/  It should be a lot of fun.
Well that's it for now. I'll try to do future blogs in a more timely manner. But for now I have to go practice for the show.
All the best.