When I retired from Microsoft I said I wanted to do a few things. One was travel, and since my retirement Suzie and I have been to 15 countries. I also said I wanted to release a CD. I released three, wrote seven songs, and got to perform live many times. And I said I wanted to write a book. Sadly that one took a lot longer than I thought it would. But after four years it is finally done and I want to thank Mary Jane Beaufrand for all her help.
Get Back Up: From the Streets to Microsoft Suites was a labor of love but it was a labor. I had no idea how hard it was going to be to go back and relive some of the most difficult moments in my live and share them with you my friends and hopefully a lot of perfect strangers. But I believed then and I believe now that there are lessons in this book that can help others. I hope you agree when you read it.
I've already received some nice comments.
Cyrus Webb an Amazon top 500 reviewer and media personality said:
"I haven't had the pleasure of meeting George A. Santino in person, but after experiencing his talent through his music and now reading his book GET BACK UP I feel a connection with him through his journey. He shows that no matter where you start or what you have experienced the only thing that is truly limiting you is You. GET BACK UP is the kind of book that will motivate, inspire and propel you towards your goals and dreams, if you are willing to do the work."
Frank MacKay Syndicated radio/TV show host said:
"I had the pleasure of interviewing George A Santino on my radio program and I found the story he relates, in his book Get Back Up, to be an inspirational tale of turning turmoil into triumph. His story is proof that the American dream is alive and well."
These were both great things to hear and I look forward to hearing your comments as well.
In fact you can already preorder the book if you want at Amazon. Just click the picture of the book.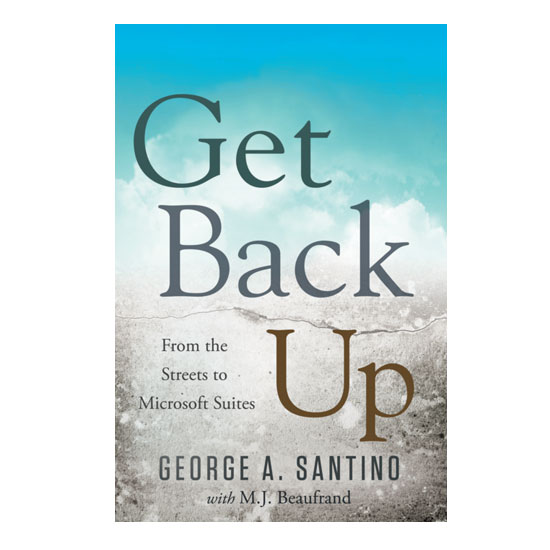 As always I want to thank you for your friendship and your support.
George